Custom Made Gates
Back To Our Services
When a customer decides they want a custom-made gate they will generally try to find the best company around. Our driveway gate company in Everett is famous for providing the install and repair services along with the products that match your taste and preference. Our company is the best in the city. We are quick to understand what you want and react to our customers requirements. With the wide range of custom made gates that are available with us, our custom company is ready to serve any customer who stays in any part of the great city of Everett.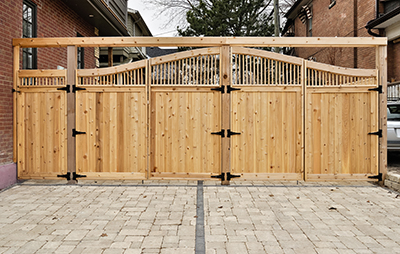 Gate Opener Safety Sensor Inspection & Repair
We didn't let the years dedicated in gate repair services pass without meaning rather have absorbed experience just like tissue paper absorbs water. Despite our admirable training and knowledge, continually invest in our expertise to this very day. With gate openers being rapidly developed and the introduction of intercom systems, keeping track with innovations is not an option. When people hire our gate company, they can be sure of our abilities and capacities to offer full residential gate service and guarantee emergency same day repairs. Elite technicians are thorough during maintenance, replace broken gate parts with efficiency, install new gates properly, and specialize in intercom installation. Efficiency and professionalism are both guaranteed!
A customer who wants a gate to look exactly how they want it to look can call our and we'll listen to your needs. We will lead you through every step of the process of having your custom made gate designed and we will install it for you. We have two different gates types that you can choose from. This is the swinging and the sliding gates. We can install these custom made gates for your residential home or commercial business. Just call our company in Everett and let's get started. We know how important your time is and we value it so you can be assured that we would do our best to work on the project with focus and dedication.
By getting a custom made gate, you are in control of everything that you want it to be. It is up to you whether you would like a scalloped, arched or top single swing gate or maybe a sliding gate. You can also choose how high and wide your gate would be and how far apart its pickets would be. Would you want a specific design for the top of the pickets? This can be integrated on the gate. The handles, plates and other details can all be personalized based on your preference. This may require some time to think and decide on your part but you will be happy with the result. Call us and let us build you the fence of your dreams.
Some of the other products that we can customize for you out if iron are the following:
* Pipe corals
* Retaining walls
* Fences
* Railings
* Doors / Gates
* Window guards
* Security doors
* Dog runs
* Cages
We are the best prices company for custom made gates. We are dependable, reliable and will make sure you are 100 % satisfied before we leave your location. Our driveway gate company is always here to take your calls. Yes, I mean 24/7. Day or night! If you are having an emergency with your fence or your gate or even any of the other parts related to them all you have to do is call us and we will be there to help you as quick as we can. Call our company in the city of Everett today and you will be happy you did. We guarantee that you will be satisfied with our service just like our previous customers.